Meet The Teacher: Casey Vaughn, The First Academy
This post is one in a series of "Meet the Teacher" blogs celebrating Teacher Appreciation Week, May 4-8, 2020. The teachers featured in this series are K-12 educators across Central Florida who also serve as the Campus Advisor for their school's Miracle Network Dance Marathon. In addition to their responsibilities as K-12 teachers, they guide Dance Marathon students through a year of raising funds and awareness for Orlando Health Arnold Palmer Hospital for Children, encouraging and challenging them as leaders, and instilling in them a sense of philanthropy.
Meet The Teacher: Casey Vaughn 
Teaches: Yearbook (10th-12th grades) & Leadership (9th-12th grades)
Has been teaching for: 4 years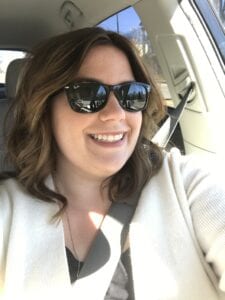 Favorite part about teaching: It's the relationships built and the lifelong impact of getting to encourage them, pray for them and support them beyond the books and lessons.
Being "FTK" means to me: FTK is the reason why I'm involved and why the students are involved in Dance Marathon. For the Kids means making an impact in the lives of children across Central Florida. It's not about attending meetings, planning events, or hitting goals, but it's about praying for and ensuring children will benefit from our efforts. It is teaching our Dance Marathon students and our entire school community the impact of DM, and how we can celebrate and have fun along the way. It is hoping for a better future and knowing it will come one day.
Favorite part of Dance Marathon: It's hard to pick one. While reveal is the obvious answer, I think my favorite thing about Royal-Thon is the smaller moments when we see our students celebrate the joys along the way. From planning movie nights to contacting donors, seeing their hard work pay off all along the way is the best and most rewarding thing.