More than just a BBQ at Sheraton Vistana Villages Resort Villas
The team at the Sheraton Vistana Villages Resort Villas is a proud supporter of Orlando Health Arnold Palmer Hospital for Children, and associates are always looking for ways to give back to the patients and families we serve.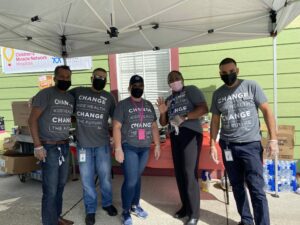 On Friday, October 29 this team of associates set up the grill and hosted a BBQ for the associates and vendors on property. The BBQ started at 11:00 a.m. and for a small donation, associates received a meal cooked by Frank, the Director of Services at the resort, which included a delicious grilled burger, a hot dog, chips and a drink.
We are grateful for this dedicated team of champions, associates and vendors that made this BBQ possible!