Hospital Spotlight – Our Incredible Child Life Team
As we enter the season of gratitude and giving thanks, we are elated to highlight one of our amazing hospital departments at Orlando Health Arnold Palmer Hospital for Children – our Child Life Program.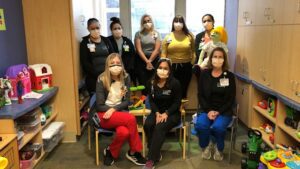 Hard-working. Sincere. Dependable. Encouraging. Creative. Passionate. Adaptable. Steadfast. Driven. These are a few words that you hear when describing our small but mighty team of Child Life Specialists at Orlando Health Arnold Palmer.
"There are many unique things that make our Child Life team so special, but the greatest is the collective work they do as a team. They truly are unified as one front to help serve our patients and their families. They continue to join forces in a way that has never been seen or experienced before at our hospital," says Sheri Mosely, Director Child Life at Orlando Health Arnold Palmer, who has been in the field for over 30 years.
When the COVID-19 pandemic changed the climate of our hospital, our Child Life team came together to find innovative ways to best support our patients and their families. Pivoting from old ways of working into new, engaging practices that met new safety protocols is no easy feat. However, because of their individual passion and commitment to their role as Child Life Specialists, our team members were quick to create new opportunities for engaging with patients.
The team worked to help patients and their families navigate their medical journeys, as well as other factors that COVID-19 brought into their lives. Our Child Life Specialists have continued to remain strong as a collective team throughout the ongoing pandemic, and have made an incredible difference because of their desire to do what is best for each other.
What makes the team special are the individuals who are on it. They are selfless leaders who are dedicated to each other and their patients, passionate about this line of work and have risen above one of the most challenging times our hospital has ever faced. Their passion stems from multiple personal connections within the Child Life world. Some first started out as participants in their local college Dance Marathon programs, finding a love for Children's Miracle Network and the work being done to support our member hospitals. Others have personal experiences growing up in a hospital setting, whether as a patient themselves or a family member having interacted with a Child Life Specialist at a very young age.
Their collective passion for the work being done is another unique quality that makes our team so special. They believe it is an honor and a privilege to be with families during some of the most vulnerable, scary and heartbreaking times of their lives. They believe in helping their patients feel like they have a voice when they are in an unfamiliar setting and so much is out of their control. It is truly our honor to say thank you to our Child Life team members at Orlando Health Arnold Palmer. Thank you for everything you do to help change kids' health and change the future!