We Choose a Second Family for Our Little Miracle
Each day, the charitable work our Children's Miracle Network Hospitals partners do for Orlando Health Arnold Palmer Hospital for Children makes a tremendous difference for children in our community. By rallying associates, customers and vendors together to change kids' health, our partners are on a mission to help kids grow up healthier, stronger and full of dreams for tomorrow. Day in and day out, they prove that when we all work together, we can create a long-lasting impact for generations to come.
Owen's journey is a testament to the amazing work happening each day at Orlando Health Arnold Palmer. We extend our deepest gratitude to our incredible partners for all they do to continue to make a difference in the lives of kids like Owen.
A Second Family for Our Little Miracle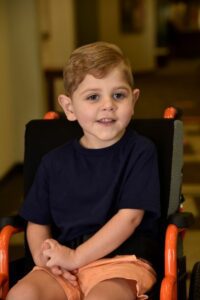 By virtue of Kim's warm, nurturing nature and her husband Matt's love for kids as a teacher, this young couple couldn't wait to be parents. However, starting a family proved to be a challenge when they had trouble getting pregnant. When Kim and Matt finally found out they were expecting a baby boy, they were elated. Determined to monitor Kim and the baby due to the initial trouble conceiving, Kim's pregnancy was considered high-risk and called for appointments every two weeks at the Center for Maternal Fetal Medicine at Orlando Health Winnie Palmer Hospital for Women & Babies. Despite the prenatal care, baby Owen was born with medical issues and was diagnosed with Total Anomalous Pulmonary Venous Return (TAPVR), a congenital heart defect. At less than a week old, Owen underwent heart surgery, which turned out to be the first of many in Florida and out-of-state hospitals. When Owen was 11-months-old, he had a surgery at a children's hospital out-of-state to attempt to correct his heart defect. During the procedure, he had two massive strokes which left him paralyzed on the left side of his body and suffering from frequent intractable epileptic seizures. That's when Owen's parents chose Orlando Health Arnold Palmer Hospital for Children for his neurological care.
Following the trauma of his heart surgery, Owen was under the care of Dr. Vikram Prakash, a pediatric neurologist with Orlando Health Arnold Palmer. When medication did not alleviate the seizures, Owen was referred to Dr. Luis Bello-Espinosa, head of pediatric epilepsy at Orlando Heath Arnold Palmer, who recommended epilepsy surgery. Because Owen needed neurosurgery at the start of shutdowns due to the pandemic, the couple was concerned that getting care for their son wouldn't be possible. At the time, Owen was experiencing 20-30 seizures daily despite taking six medications. Dr. Bello-Espinosa and Dr. Samer K. Elbabaa knew surgery was the best option, so they worked hard to ensure Owen was able to get the best care, even in the wake of COVID-19. In March 2020, Owen was the first patient to receive the highly complex procedure known as Peri-insular Hemispherotomy Epilepsy Surgery at the Leon Pediatric Neuroscience Center of Excellence.
Since his procedure, Owen has been seizure-free and three of his antiepileptic medications have been discontinued. Soon, his other medications will be stopped as well, which wouldn't have been possible without surgery. Grateful for how this care has changed Owen's life, Kim and Matt call the Orlando Health Arnold Palmer team their second family. They're pleased to have the Orlando Health team by their side throughout Owen's care and are looking forward to his continued progress. They hope their little trooper remains seizure-free, can be off all medications and continues to grow intellectually. Kim and Matt are also counting on Owen to be a great big brother, as they're expecting a second little boy soon. Because of the incredible care they received for their first bundle of joy, they plan to deliver at Orlando Health Winnie Palmer with the team they love and trust with all their heart.