September is 'For The Kids' at Costco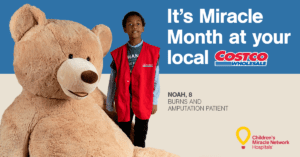 Each year, Costco warehouses across the nation participate in a month long campaign to raise critical funds for their local Children's Miracle Network Hospitals. Traditionally held in May, COVID-19 interrupted the original schedule of this year's campaign while warehouses focused on new associate and member safety protocols, but Costco would not be stopped from doing all they could for the kids this year. This September, Costco will be rallying their associates and members to support their Children's Miracle Network Hospitals Campaign, supporting local children's hospitals, including Orlando Health Arnold Palmer Hospital for Children.
The fundraising campaign, held September 1-30, gives members the opportunity to support Orlando Health Arnold Palmer by making a donation at the time of checkout – Â whether at the register, at self-checkout, online at Costco.com or even via Instacart.
We are very grateful for Costco's commitment to continue to change kids' health and change the future.  Since 1988, Costco associates and members have donated more than $1.4 million through the annual CMN Hospitals campaign in Central Florida and we are excited to see the many more miracles they will make possible this September.
Thank you Costco for making a difference in our community. When we change kids' health, we change the future – for all of us.
For warehouse locations fundraising for Orlando Health Arnold Palmer, click here.