RE/MAX Elite Celebrates Month of Miracles
Since 1992, RE/MAX Affiliates across the U.S. and Canada have raised $157 million for 170 member hospitals. Each year, August serves as a month-long celebration to share all the amazing things RE/MAX agents and offices do to help kids live better lives. We hope you will join us in this celebration of a "Month of Miracles"! 

With five locations and a main office in Melbourne, FL, RE/MAX Elite has made a difference in the lives of hundreds of thousands of patients & families served by Orlando Health Arnold Palmer Hospital for Children. Through their Miracle Home program, RE/MAX Elite Agents & Offices pledge to make a donation to Orlando Health Arnold Palmer after each closed property sale. This program, in addition to their exciting special events and even an online store that sells items to raise funds for Children's Miracle Network Hospitals, all contribute to the culture at RE/MAX Elite – to continually foster employee and customer community engagement.
Once again, RE/MAX Elite is stepping up this August to celebrate Month of Miracles! Hosting their annual kickoff, each agent donated a gift basket to be used as a raffle prize and there was even  an agent who custom-ordered a CMN Hospitals balloon cake to celebrate! While this kickoff was a team effort, two people led the charge in making it a success – Heather Holliday and Lisi Ross. Due to their commitment to supporting Orlando Health Arnold Palmer, a record number of agents came to the kickoff – where they raised more than $7,000 just in the 50/50 raffle alone!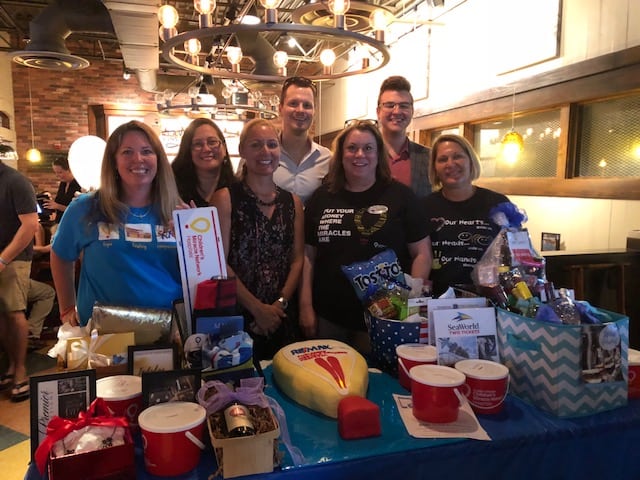 And for RE/MAX Elite, it's not just the established partnership with CMN Hospitals that drives their success – there is a personal connection.  Heather's stepson was treated at Orlando Health Arnold Palmer for an orthopedic injury, so she knows first hand how important specialized care for pediatric patients is to our community. Aside from Heather, many agents have been personally touched by our hospital, or knows someone who has. In fact, their passion was on full display earlier this year, during RE/MAX Elite's Awards Banquet, where some of the top fundraisers received recognition!
Some of the other fantastic RE/MAX agents and representatives that make this office such a shining success are: Lisi Ross, Angela Lawless, Brad Kuhns, Bobby Freeman, Bridget Sentz, Candace Mulvaney, Carolyn Smith, Joshua Aikins, Jennifer McCoy, Kerry Ramage, Peggy Penridge, Patty Teachman, Sue Tillman, Steve Vitani, Theresa Friend, and Todd Ostrander.  Their passion and commitment to Orlando Health Arnold Palmer continues to save the lives of the children of Central Florida, and continues to leave a permanent mark on our hospital.
If you know a RE/MAX agent, or have used  RE/MAX agent to buy, sell or rent a home, be sure to thank them for their support of CMN Hospitals, and wish them a Happy Month of Miracles!