Panda Express Surpasses $100 Million in Giving to CMN Hospitals
Our partner, Panda Express, has officially surpassed the $100 million milestone of giving to Children's Miracle Network Hospitals (CMN Hospitals). Since 2007, Panda Express has raised funds for local children's hospitals across the country through its in-store donation boxes, associate (employee) giving campaign, and fundraising with corporate partners through their annual golf tournament. Locally, Panda Express has raised more than $600,000 for CMN Hospitals in Central Florida. We are grateful for this long-standing partnership and look forward to making more miracles in the future.
All of these fundraising efforts throughout the year have driven Panda to be one of the highest-giving corporate partners CMN Hospitals has. In 2020, even with ongoing impacts to the restaurant industry, Panda Express guests and associates raised more than $22M for CMN Hospitals, helping the organization change kids' health and change the future.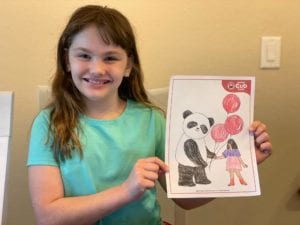 QSR Magazine recently featured a piece about Panda Express surpassing this milestone, where they highlighted "as a result of the restaurant's numerous drive-to-retail campaigns and an associate giving campaigns, encouraging employees to participate through a one-time or recurring paycheck deduction, Panda Express has become one of the highest-giving corporate partners CMN Hospitals has." You can check out the entire article here.
As part of Panda's long-standing partnership with CMN Hospitals, the brand's philanthropic arm, Panda Cares committed $25 million to establishing Panda Cares Centers of Hope across CMN Hospitals nationwide in 2019, with plans to open over 20 Panda Cares Centers of Hope across the country this year. These are dedicated spaces within CMN hospitals are designed to address a child's entire well-being including their mental, emotional, physical and spiritual needs. The Centers of Hope often provide access to therapeutic play, art therapy, meditation, or counseling services.