Hatterthon Reveals Goal of $50,000 For Arnold Palmer Hospital for Children
Guest blog post written by Emily Hessler, Hatterthon External Director:
On April 12, music was blasting by Holler Fountain on Stetson University's campus as students gathered around anticipating a special announcement from the  Hatterthon 2019 Team to be made at 5:19 PM. Hatterthon, Stetson University's Miracle Network Dance Marathon, is a year-long fundraising effort that culminates into a main event where students stand for eight hours in honor of the children served at Orlando Health Arnold Palmer Hospital for Children.
Tara Tovkach, Executive Director of Hatterthon, started the event by saying a few words:
"As Stetson University's largest student run philanthropy, we are so excited for our third year on campus. In our first year, we raised $10,861.17. Last year, we challenged the campus to double our first year's total, so we made our goal $20,000. Not only did we double our total from our first year, we tripled it and raised a total of $31,201.18! Our program founder once said that Stetson deserves Dance Marathon and Dance Marathon deserves Stetson. With the growth that we have had these past two years, we know this is true and it couldn't have happened without all your efforts. This year, we are challenging Stetson to defy the odds again and it is our honor to announce Hatterthon's 2019 goal."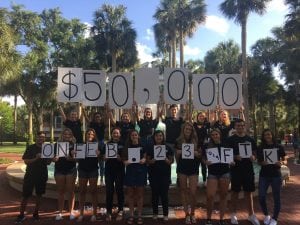 Hatterthon's Executive Board asked the Stetson, DeLand, and Central Florida community to join them on this journey as they set a fundraising goal of $50,000 for the children treated at Arnold Palmer Hospital and celebrate with them on February 23rd, 2019 at their third annual Hatterthon.  All proceeds from their event will purchase life-saving equipment, hospital supplies, fund research, and help the children that are treated at Arnold Palmer Hospital.