Gaming for Kids: Meet Full Sail University's Katie Brown-Bonafilia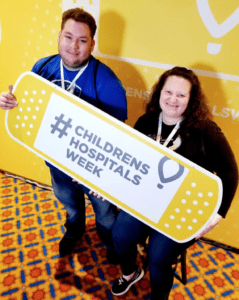 Katie Brown-Bonafilia is an Associate Course Director in the Humanities & Social Science Department at Full Sail University in Winter Park, Florida. When she isn't educating future leaders, Katie serves as a Faculty Advisor for the Extra Life Guild at Full Sail University where she spends her time working with a team of students, alumni, community partners and additional staff members to recruit, fundraise and spread awareness regarding the importance of helping sick and injured kids in Central Florida. Katie has been working on the Extra Life Full Sail team since its inception in 2016 and is a huge reason why Full Sail University has solidified itself as an Extra Life powerhouse in Central Florida through their average of 200+ students signing up to game each year.
What was the moment you realized Extra Life was something you were driven to be a part of?
One of my previous Psychology of Play (the primary course Katie teaches at Full Sail University) students was determined to bring this initiative to our campus. He introduced Extra Life to the university and once I learned about the mission to play games to change kids' health and change the future, it resonated with my heart. I have grown up serving my community in various capacities and Extra Life was an opportunity to not only serve my students, but to bring our initiative into our community on a larger scale. I was born with metatarsus adductus, a foot deformity impacting both of my feet as a child. Had it not been for my local community organizations and support at the time, my mobility would not be what it is today. I had a team supporting my medical needs as a child as well as the medical needs of my younger sister, and through Extra Life, I can continue to give back to other kids who also have medical needs.
What is your favorite part about being involved in Extra Life?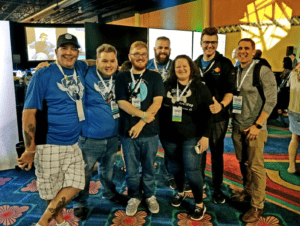 My favorite part about being involved with Extra Life is bringing to light how we can play together while also serving kids and families in need within our communities. Part of the lessons in my course, Psychology of Play, is how play can nourish the hearts of those around us. It shares the reminder that we are all human and can all support and learn from one another.
As it pertains to Extra Life, what are some goals that you have over the next year?
Our team is anxiously awaiting live events to return in person on campus, as I am sure many other schools and students are in a similar position. When it is safe to do so, we look forward to returning to live events. As our events grow, we need to continue to expand our collective team positions and support roles. We are excited about additional community involvement and partnerships. In the meantime, we are planning for these events, as well as striving for ways to continue to interact virtually, which has been our main mode of connection throughout the pandemic just as other clubs and groups.
Katie is celebrating her 10-year work anniversary during the month of August and the Children's Miracle Network team at Orlando Health Arnold Palmer Hospital for Children cannot thank Katie and the entire team at Full Sail University enough for their hard work and dedication towards changing kids' health and changing the future. If you are interested in keeping up with the wonderful things Full Sail's Extra Life team is doing throughout the year, you can join their Discord channel here: https://discord.gg/npPqV4Ad56