Erin Panzella continues Cuddle Bear project in Bellah's memory
March is Child Life Month, a month where hospitals celebrate child life specialists and the Child Life profession through education and awareness of their work. To honor these dedicated professionals during the month of March, CMN Hospitals will highlight the top 10 nominees submitted for the 2020 Delta Child Life Specialist of the Year award.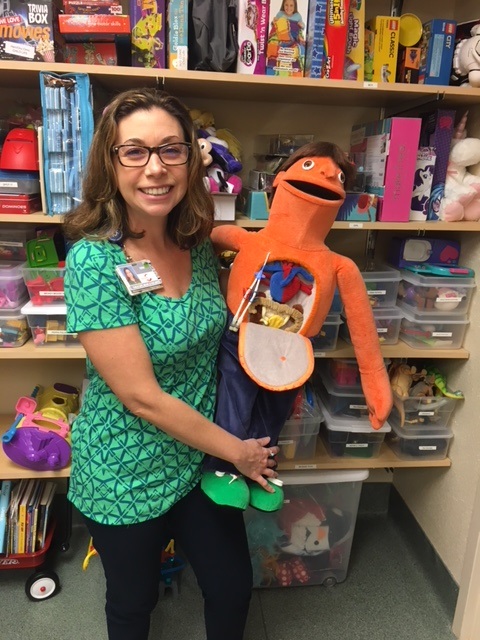 Erin Panzella began her path to a career as a Child Life Specialist at an early age. Her own experience with chronic illness as a teen inspired her to begin studying Child Life in high school. 
For her high school honors class project, Erin partnered with a local hospital to create a teaching doll to help kids in the hospital understand their procedure or diagnosis. That project further influenced her decision to study to be a Child Life Specialist in college. 
As she studied, Erin completed summer jobs as a Child Life Assistant and volunteered in various hospital programs. For the past 13 years, she has been a full-time member of the Child Life staff at Orlando Health Arnold Palmer Hospital for Children in Orlando, Florida. 
Erin has worked with children in a variety of areas including the general cardiac unit, Pediatric Intensive Care Unit, Cardiac Intensive Care Unit, Neonatal Intensive Care Unit, Ambulatory Surgery, Kids Dialysis Center and Palliative Care. She is also actively involved in working with children of adult patients who are experiencing a life-changing event with their parent. 
At the end of the day, Erin knows that the most important work she does is one on one, helping her patients navigate the physical and psychological challenges of medical treatment. This often means finding creative ways to lend a hand. 
One patient was on long-term dialysis, so Erin coordinated to have a magician routinely spend time with the patient. Now, that patient is a skilled performer and volunteers at nursing homes to perform magic for residents. 
Another long-time patient and a Children's Miracle Network Ambassador Child, Bellah South, partnered with Erin to help other patients in their hospital. Bellah had used the book "Cuddle Bear" to help her cope and tame her anxiety for her five organ transplant surgery. She told Erin that she wanted to give bears and a copy of the same book to other kids who would be getting better in the hospital. Along with their team of helpers, Erin and Bellah donated more than 100 books and bears to other patients. 
Bellah passed away in the summer of 2019. Erin continues to work on this special project in Bellah's memory and as part of her legacy. 
Through her commitment, passion and clinical knowledge, Erin has had a lasting impact on many patients and their families. She continues to make a difference every day. 
Erin Panzella has lived in Florida for more than thirty years. She loves to travel, do yoga and write poetry. She also enjoys theatre. Her favorite food is her grandmother's stuffed artichokes. 
Child Life Specialists help normalize the hospital experience and bring joy and comfort to hospitalized kids and their families. Many of the funds raised by CMN Hospitals are used to fund Child Life programs and help make up the gap between what government and insurance pay for and the actual cost of caring for kids in our member hospitals.