Ace Hardware Makes Miracles during the Holiday Season
It's the most wonderful time of the year as our friends at Ace Hardware round up for kids treated at Orlando Health Arnold Palmer Hospital for Children. Each year, our friends at Ace ensure their shelves are stocked with all your home holiday needs. They continue to remain "The Helpful Place" to our community for so many reasons, but especially due to their continued support towards helping change kids' health, and change the future for our patients spending the holidays in our hospital. Our Ace Hardware stores have gone above and beyond each holiday season, raising thousands of dollars through their registers to help sick and injured kids. Just last year alone, our Central Florida Ace Hardware stores raised over $45,000 during the months of November and December through their Holiday Round Up campaign.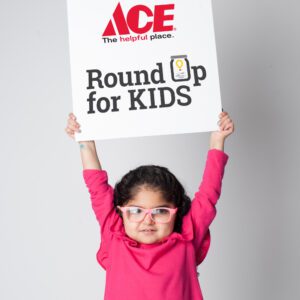 Whether you are stocking up on all your home essentials, or shopping for the holidays, be sure to stop in and support one of our 44 Central Florida Ace Hardware locations. We are extremely grateful to have such helpful heroes that work at Ace Hardware who strive to make a difference for our patients and their families treated at Orlando Health Arnold Palmer. There truly is no place like Ace! Thank you to all our wonderful participating locations.
#1536 ACE HARDWARE
# 3374 MADDEN'S ACE HARDWARE
# 4210 ACE HANDIMAN HARDWARE
# 4388 ACE HDWE OF DELTONA
# 4822 WEST MELBOURNE ACE HDWE
# 4979 SOUTH ORANGE ACE HARDWARE
# 8292 ACE HARDWARE OF PALM BAY
# 8554 BRAY HARDWARE COMPANY INC
# 8827 ACE HDWE AT PINEDA INC
# 10106 MADDEN'S ACE HARDWARE
# 10952 ORLANDO ACE
# 11011 ACE HANDIMAN HDW/CANAVEREAL
# 11531 COLLEGE PARK ACE HARDWARE
# 12249 APOPKA ACE HDW/LBR INC
# 14273 ACE HDW OF DELTONA #2
# 14359 MADDEN'S ACE HARDWARE
# 14760 ROUTE 46 ACE HARDWARE
# 15176 CONWAY ACE HARDWARE
# 15179 ORMOND ACE HARDWARE
# 15416 DG ACE HARDWARE
# 15417 DG ACE HARDWARE
# 15418 DG ACE HARDWARE
# 15459 MAITLAND ACE HARDWARE
# 15724 COLONIAL ACE HARDWARE
# 15987 AVALON ACE HARDWARE
# 16419 ACE HARDWARE
# 16648 UNIVERSITY ACE HARDWARE
# 16706 D'S ACE HARDWARE
# 17359 ISLAND ACE HARDWARE INDIAN HARBOUR BEACH
# 17607 ALOMA ACE HARDWARE
# 17702 DR. PHILLIPS ACE HARDWARE
# 17765 CARTER'S ACE HARDWARE OF HUNT CLUB