Orlando Health Arnold Palmer Hospital for Children is celebrating Panda Cares Day!
Following the establishment of its inaugural Panda Cares Day™ in 2019, Panda Cares®, the philanthropic arm of Panda Express®, celebrates its anniversary on August 8 every year with a celebration of giving back. We are excited to recognize this incredible partnership and the impact it has had on our community on this day.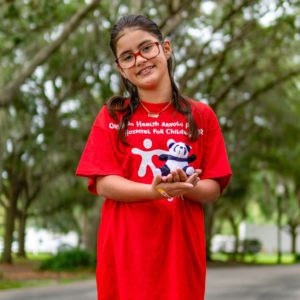 Since 2007, Panda Express has raised funds for local children's hospitals across the country through its partnership with Children's Miracle Network Hospitals. By asking every guest to round-up at the register, placing donation boxes in-store, engaging in the associate (employee) giving campaign, and fundraising with corporate partners through their annual golf tournament, Panda is one of the highest-giving corporate partners CMN Hospitals has. In 2020, even with ongoing impacts to the restaurant industry, Panda Express guests and associates raised more than $22 million for CMN Hospitals, helping the organization change kids' health and change the future.
Locally, Panda Express has raised more than $600,000 for CMN Hospitals in Central Florida since 2007. Associates and customers continued to show their dedication throughout the pandemic by raising over $100,000 in 2020 for Orlando Health Arnold Palmer. Those funds supported our Teen Xpress bus, one of six programs offered through The Howard Phillips Center for Children & Families, a part of Orlando Health Arnold Palmer Hospital for Children. Teen Xpress provides children ages 11-19, located in high poverty areas, with free healthcare services through a mobile unit that travels to middle and high schools.
Thank you Panda Express for continuously putting your community first and for everything you do for the kids at Orlando Health Arnold Palmer.
Enjoy this video highlighting the impact of this partnership!
The One Question Asked at Every Panda Express – YouTube
Learn more at www.PandaCares.org