Meet the Miracles: Brody
Before having any children, Ruben and Amy Santiago spent a number of days at Arnold Palmer Hospital for Children each year. As sponsors and volunteers of the annual MIX 105.1 Loves Our Kids Radiothon, they were familiar with the many specialty services the hospital offered, the incredible care it provides to patients and families and how important charitable support is to their local CMN hospital. But they never imagined they would one day rely on everything they had heard about first-hand.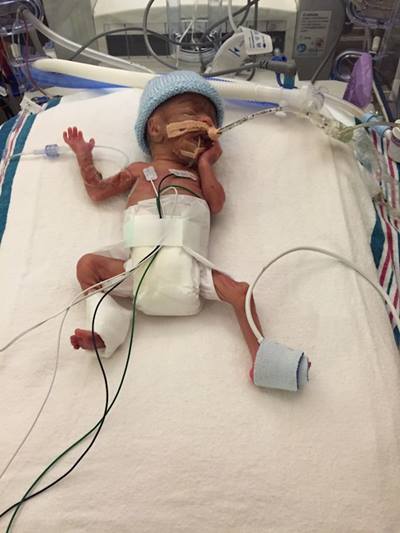 On September 17, 2016, their son was born after just 23-weeks of gestation. Brody Myles Santiago was born at Winnie Palmer Hospital for Women & Babies (part of Arnold Palmer Medical Center), weighing 1 lb., 2 oz., and only 12 inches in length. Brody was given a 5 percent chance of survival. He spent 148 days in the Neonatal Intensive Care Unit (NICU) before graduating and heading home.
On November 30 and December 1, the MIX 105.1 Loves Our Kids Radiothon will once again broadcast live from Arnold Palmer Hospital, and this year the Santiago family will be speaking on-air, but from a very different perspective than they have in years' past. Be sure to tune in to hear them share their story of hope and healing.
Until then, we asked Ruben and Amy…
Q: What was life like in the NICU for 148 days?
There were many emotional and perplexing long days and lonely nights spent beating the odds and watching our superhero miracle fight. The difficult journey would constantly change in a moment's notice, from the fear of the unknown, to reaching huge milestones.
Q: What advice would you give to another family/mother with a baby in the NICU?
Never lose hope. Never stop believing in yourself, your baby, and the doctors and nurses who work at the Winnie Palmer Hospital NICU. Try not to let emotions hinder you or your spouse from being present in each and every moment. Capture every single trial and triumph, because witnessing a miracle is impossible to put into words. 
Q: If you could thank the team of doctors and nurses who cared for you and Brody, what would you say to them?
When we were informed that Brody was facing a 5 percent chance of survival, we had no other choice but to have faith in the one who gave us this miracle and trust that He would guide the incredibly passionate team that surrounded Brody every day. Their proactive approach, attention to detail, constant encouragement and communication was truly humbling to witness and instilled a greater peace. We are still in awe of the Winnie Palmer Hospital NICU team and the testament to faith that turned our chance into life changing blessings, and for that we are forever grateful!