Knight-Thon Focuses on Hope, Healing, and Compassion
This past Fall, Knight-Thon was just getting in the swing of things and began planning how they would raise awareness to the UCF campus. The Leadership team was just getting used to their positions and recruitment was in its highest peak. In September, Knight-Thon announced the theme of the event, "Our Legacy," honoring the legacy of Arnold Palmer, as well as encouraging dancers to leave their legacy through fundraising this year. In November, Knight-Thon had its big push day where leadership as well as committees and dancers raised $169,216.68 in 24 hours.

Now, in the spring, with less than 65 days until Knight-Thon, energy is high, eager hearts await, and fundraising is kicking up rapidly. To boost morale and fundraising within the internal team, the Hope, Healing, and Compassion campaign was born. The Executive Director, Amanda Marotta, randomly assigned every manager, director, captain, and committee member into three different groups; Hope, Healing, and Compassion- to represent the three pillars Arnold Palmer Hospital for Children strives to achieve everyday. For the next two weeks the three teams began competing to see who can raise the most money in that time span. These randomly assigned teams gave the team the opportunity to have to work with people they normally don't get to and also gave them the determination and drive to fundraise more due to the competitiveness of the members.
To say that teams went all out is an understatement. From holding meetings, making graphics, puppy days, group chats, team pages on Facebook, and everything in between- each individual worked tirelessly to fundraise for their specific team. With the prize being a small pool of money being divided against the members of the winning team and donated to their donor drive as well as bragging rights, everyone got to fundraising and the results were amazing. Donor drives were booming, people were reaching their goals, and most importantly, teams were bonding. It truly has been an effective campaign and has benefited the Knight-Thon team in more ways than one.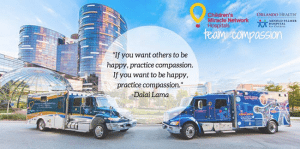 Through this campaign, not only were we able to bond, but we were able to remember how crucial hope, healing, and compassion is to Arnold Palmer Hospital. Our passion for this cause was reignited, and the driving force to leave our legacy was remembered.
Although there are times when we get caught up in the hustle and bustle of it all, we are always able to find the fun and joy in our cause, and are constantly reminded of the strength and beauty of our miracle children. We then remember the "why" and the "who" for this journey we are on. At the end of the day, everyone at Knight-Thon has one main goal…and that is to leave their legacy for the kids at Arnold Palmer Hospital for Children.